MEGA-SIZE event tent show our craftwork-competence

Tibetan tent da wa

Specifications

ZOGE traditions handworks with splice-float thread double sewn in injections strength-resist point and skeleton-line make our Tibetan tents stronger and longer lasting


area--30-67sq.m

Max-indoor length--12m

width--3m

wall--hight-1.96m

Top to wall-- 1.5(custom order)

for more detail and our tent photo please contact us

tents-type and materials

Top quality canvas 12oz (353gm) per square meter, rot/water-proof & flame-retardant

also with pure cotton and natural canvas the selection from our practical experience

technical

ZOGE applique in black and blue canvas

ZOGE screen printing

ZOGE

Tibetan hand-paint

with

tradition

al mineral dye

center-crossbeam 1

double T structure

center-pole-3-7

Sidewall-pole -12(plus door pole 2)

Mini-stakes-36-48

standard required

ZOGE

tradition

al

Tibetan auspicious symbol

manufacture und shipping time

c

lient

Custom-size

manufacture time 30 Tag

generally shipping-time Maximum 30 Tag

| | |
| --- | --- |
| special Custom-size order |   |

also in minimal and middle(22 37 49 )sq.m Custom-size
ZOGE encourages you to build your own body-poles to save you money We supply every tent with plans map to build appropriate poles and measured dimensions. to keep best out looking, our tradition style decorate woodcarving crossbeam-poles and woodcarving-standing poles is recommend (only top of decorate woodcarving without body)

ZOGE Tibetan tents are allows you to customize your living or campaign area to fit your needs, for example zipper connective on sidewall for more mobile place. doors are usually located in the center of the long side of our Tibetan tents. we may add as many doors in any location you wish.
---
As a part of living skill to make tents in top land condition. ZOGE is using our Own standard to estimate the resisting capability of tents in out-door condition .

NOTE! Reproduction, also in any part in this web site, as well as duplication or spreading
by means of electronic media is only with written permission by the BA-XIANG Tibet-art studio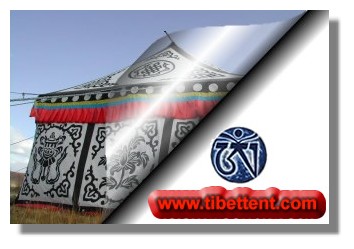 ---
---
---